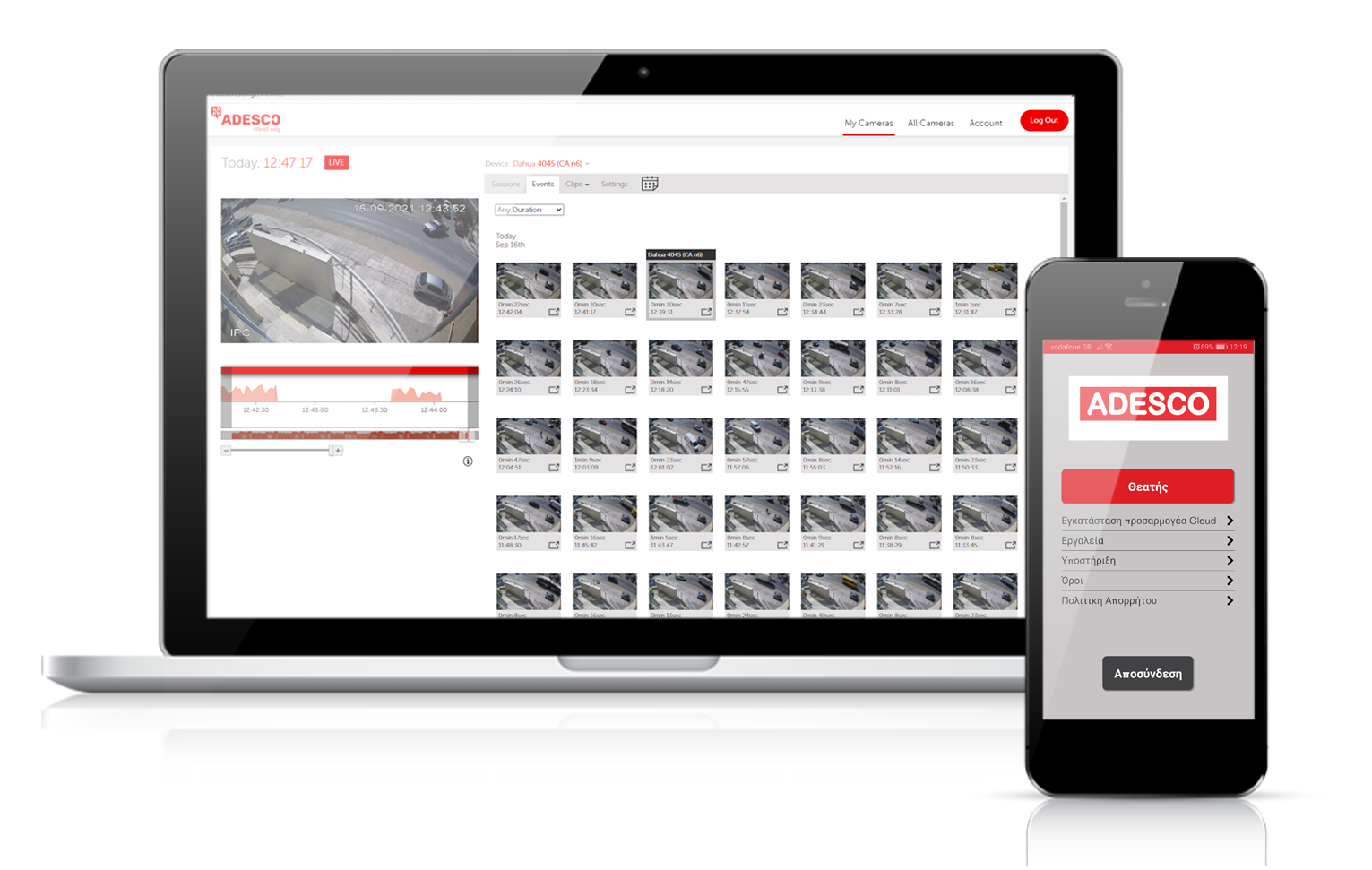 INTEGRATED VIDEO SURVEILLANCE MANAGEMENT THROUGH CLOUD
Cloud recording, live monitoring
&

playback service.
ADESCO Box device
It incorporates state-of-the-art technology and enables secure and encrypted interconnection of cameras and/or DVR's in the cloud.
Compatibility
With the largest CCTV manufacturers such as HIKVISION, AXIS and Dahua.
What it offers
Creates a new source of revenue for the installer !! For the first time the installer has the ability to receive subscription from the CCTV systems he has installed or will install in the future, providing high quality service to his customers at an affordable price.
Secures the recorded video from damage, destruction, sabotage, theft.
It enables the installer to have the technical control of the CCTV facilities (recorder and camera status – immediate troubleshooting – provision of new service to their customers).
Features
ADESCO Cloud Security – AWS (Amazon Web Services) – Encryption in saved video recording.
Cloud interface via RTSP or ONVIF protocol (using H.264 and MJPEG video encoding).
Up to 8 cameras per ADESCO Box. Possibility to use additional ADESCO Box.
It has an external USB flash drive for local temporary storage of video in case of lost internet connection. Possibility of alternative 4G connection.
The ADESCO Box can completely eliminate the digital recorder (DVR) or integrate it into the system and operate in parallel with it.
It combines high quality service with extremely simple and easy to use operation.
Flexibility of selection in the recording period and the number of cameras that will be integrated in the service. The end user only pays for what he uses.
Mobile app Free on the Google Play Store and iOS App Store
PUBLISHED IN THE MAGAZINE
PUBLISHED IN THE MAGAZINE